Walkin' on Sunshine (aka faith)
And just like that folks! ANOTHER year has come and gone like a thief in the night! 2019 flew by me (as you can see by my lack of posting) and I am ready to take 2020 head on. This past year was full of many unexpected twists and turns. I relocated, met some amazing people, and found some new hobbies. This year has provided me with lots of personal and spiritual growth and for that I am thankful.
December 13, 2018, I quit my job. I put in a 3-weeks notice and told them I would not be returning after the New Year. I It was one of the most difficult things I've ever done, but I knew it needed to be done. (I had to work on the 2nd because… idk I just had to, due to technical corporate rules or whatever.)
Side Note: I am a firm believe that if something doesn't make you happy then leave it. Jobs, relationships… doesn't matter. We hold the keys to our own happiness. If something makes you happy be like Nike and JUST DO IT. Just kidding… but no really take the leap.
By January 3rd, 2019 my car was packed up and I was ready to leave Atlanta in my rear view. I drove off, headed down my "yellow brick road" to Los Angeles, the City of Angels, set as my Oz.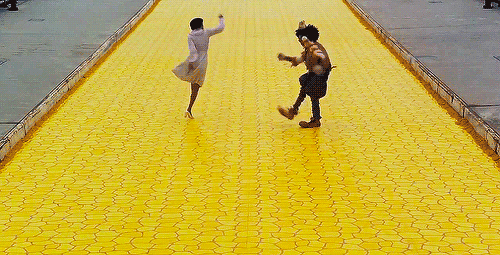 Everyone was worried and really... to be honest, a lot of people were against me going. (Mainly because, it was so expensive and I didn't have a full drawn out plan.) Even though I didn't have a plan, my gut was telling me I needed to leave. I didn't have any fear. I was completely walking on faith, and you can't do that if you don't whole-heartedly trust in your Angels/the Universe.
A good friend graciously offered to help make that drive with me. Unfortunately, something came up night before and she couldn't go. That's when I started to worry. It never dawned on me to have someone ride with me until she offered. I declined at first. But once I had it in my mind it was going to be a nice girls road trip, and actually realized potential dangers of driving alone, I knew I didn't want to make that trip by myself. So I called my high school BFF…. to make a long story a smidge shorter, she was in ATL the next morning, and off we went!
I had planned this as a week and a half long journey, stopping and enjoying each city for a day or two. By day 3, I found myself in Dallas, visiting old friends and family I hadn't seen in a literal decade. By Day 5, I realized Dallas was my final destination. No more LA. I know right?! Curve Ball!
**moment of silence**
So What Had Happened Was….
I met up for dinner with my Godmom aka Auntie Niki, my first night in Dallas and she spent a good three+ hours in Cheesecake Factory trying to convince me to stay. She offered her home and told me Cali was for the birds. She was very adamant. I told her, quickly, and kindly, but firmly, "thanks but no thanks…" I had my eyes set on LA and spent the last several months ignoring anyone telling me not to go. She was no different. So I thought…. Lol
I left the next day and headed to Oklahoma to see my college BFF and spent two days pondering on what felt like the hardest decision of my life. I am a very stubborn person and anyone who says I can't, I feel like I have to prove them wrong. If stay in Texas, would I have let everyone's opinions get the best of me. Would that mean they proved me wrong? I had about 36 hours to do some real soul searching. Had my godmother called me and told me to come here before I left ATL, I would have taken a detour and drove around Texas. I think sometimes God uses people to talk to us.
When I left Georgia, I told myself I was going to follow my gut and to my demise my gut told me to stay... in TEXAS. After some heavy consideration, I turned my ass around. 365 days later, I can confidently say, I have no regrets. I know that I am exactly where I need to be. And had I not taken the leap, I would have never ended up here. Crazy to say, but I love it here. Never in a trillion years would have thought!! I get to be around more family, I have my line sister and sorors and I have way more friends here. I've made some great connections and found my tribe… it's just been great!
Dallas feels more like home than Atlanta did.
It Hasn't Been All Rainbows and Butterfly's
It took me EIGHT MONTHS to find a job. OMG the struggle was real. I spent the first couple months volunteering, freelancing, and doing odd jobs-- just figuring out how to get by day-to-day, month-to-month. While it was a HUGE blessing I didn't have to worry about rent, my other bills were eating me up and after a few months without steady income I was forced to live by credit.
There were so many times I felt defeated. Lots of tears were shed. I really didn't expect to go so long without a job or steady income. I've had so many jobs. (Well… gigs, not jobs.) Some I found on Craigslist… lol you'd be surprised how strange I was willing to get for some change. From bartending to trying my luck selling foot pics, I explored several options to get a coin or two. It's it's been a wild year to say the least.
Through the hustle, I discovered closet organizing. Random, but I truly enjoy it. My life is so chaotic and unorganized that I find it therapeutic to help bring structure to the lives of others. Plus I love nice homes… 'cuz what kind of person is hiring someone to organize a closet. (I do homes, and rooms as well but closets are most common.) Along with the organizing, came wardrobe styling and personal shopping! Which I love! I am looking forward to the day I am doing it full-time for myself.
So at the moment, I am working a 6mo contract job in an office. I am looking into getting my real estate license with hopes of selling million-dollar homes to the elite. Eventually I want to be "bi-coastal" splitting my time between Atlanta and Dallas. My goal is to be a lifestyle business mogul. Designer. Realtor. Stylist. One day I will be the Founder and CEO of Fitzgerald Enterprises, a premier luxury brand revolving around all things home and fashion.
I'm Growing
My godmom kept telling me, "Just plant your seeds." And that is what I have done. My goal for this year was to find my purpose and figure out what I wanted to do. I think I have achieved that. This year was full of spiritual growth. I started meditating and praying more, giving gratitude every day, being more present and my whole outlook on life changed. I am not where I want to be but again I know I am exactly where I need to be right now.
I am a strong believer that the Universe speaks to us through numbers. When I first moved here I kept seeing 2, 222, 2:22. Even my storage number was 222. The messages I got when looking it out felt aligned with where I was at the time. Now, one year later I am noticing the number 4! EVERYWHERE. Again, the message aligned with me. And the meaning behind the number 4 is very powerful. (#Beyonce #JayZ) I'd also like to note the 2020=4.
I know that its sounds cliché but I think 2020 is my year. I hope it's everyone's year. I feel the high frequency and am excited for all that it has to bring. 2019 was a year of clarity, understanding. 2020 will be a year of building a solid foundation for the rest what I believe will be a fruitful life. Now it is time for me to organize my own life so that I have the ability to catch all these blessing that I know are about to come showering down.
I leave you with a final word...
FOLLOW YOUR HEART
#dallas #lifeupdate #graphicdesign #stylist #closetorganizer #newyear #faith